FIBERGLASS RESIN
RAYPLEX® #201 Fiberglass Resin is the same high-strength polyester resin that is used to build most boats. Can be used alone or with fiberglass tape, cloth or mat to repair damaged fiberglass boats, snowmobiles, jet skis, bathtubs, showers, sinks and hot tubs.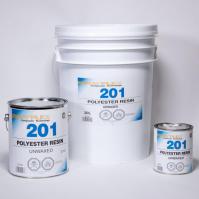 Can also be used as a sealer on damaged and rotted wood. Seals concrete, is great on large or small metal rust-outs and joins most surfaces together while creating a strong and long lasting bond. Sandable in less than 2 hours. It is compatible with all paints and gel coats and requires RAYPLEX® Liquid Hardener (MEKP)
CATALYST SOLD SEPARATELY
Structural Strength:
When combined with RAYPLEX® Fiberglass Cloth or Mat, RAYPLEX® All-Purpose Fiberglass Resin is an extremely strong and durable repair method. It can handle any repair ranging from the smallest to the largest of projects. When the resin and liquid hardener are mixed, a reaction occurs which allows the resin to chemically bond to the surface you are repairing. This technological advantage of a 2-part system allows the product to fully cure in 2 hours and adhere permanently to the repaired surface. Not only can you save money, but you can make professional, great looking repairs.
Resin with Catalyst
| | | | |
| --- | --- | --- | --- |
| Item | Size | Price | Quantity |
| 20122C | 1L | $ | |
| 20126C | 3.78L | $ | |
| 20126CA | Case (4 Gallon) | $ | |
| 20130C | 20L | 1 -3 $172.054 - 9 $166.9710+ $160.04 | |
| 20134C | DRUM | $ | |
Resin ONLY
| | | | |
| --- | --- | --- | --- |
| Item | Size | Price | Quantity |
| 20122 | 1L | $ | |
| 20126 | 3.78L | $ | |
| 20126A | Case (4 Gallon) | $ | |
| 20130 | 20L | 1 - 3 $157.354 - 9 $152.2710+ $146.34 | |
| 20134 | DRUM | $ | |
Catalyst ONLY
| | | | |
| --- | --- | --- | --- |
| Item | Size | Price | Quantity |
| 37503 | 28ml | $ | |
| 37505 | 56ml | $ | |
| 37510 | 2x125ml Fast | $ | |
| 37610 | 2x125ml Slow | $ | |
| 37536 | 8lb Fast | $ | |
| 37636 | 7lb Slow | $ | |