Kits
Rayplex now offer project kits for the larger do it your self projects.
Boat Rebuilding
Rebuilding a boat with new strings transom and floor.
Everything you need to install new stringers, transom and floor in a 17ft boat.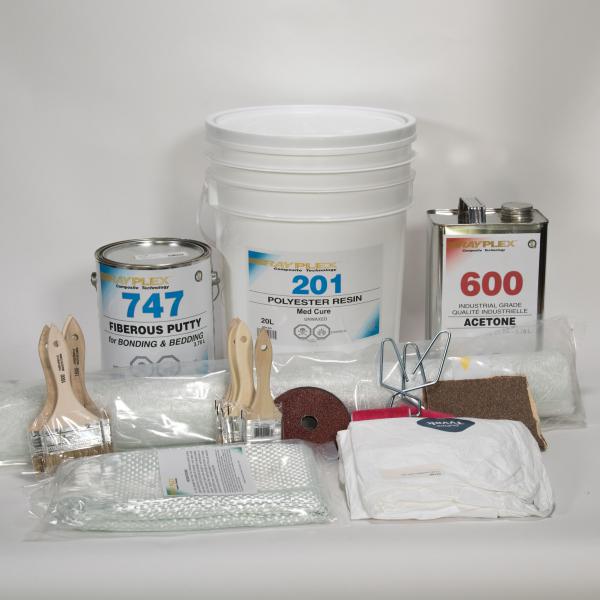 Kit contains
1 pail 20 lt of #201 resin includes catalyst
16 yds of 1.5 oz matting 50 in wide
3 yds of 18 oz roving 50 in wide.
3.78 lt fibrous putty c/w catalyst
2 sheet 50 or 36 grit sandpaper
2 #36 grit 4 1/2 in
1 XLL Tyvek coveralls suit c/w hood
2 masks
1 4 lt acetone for Cleanup
6 2" chip brushes
4 3" chip brushes
6 3" JR rollers.
Large Gelcoat Repair Kits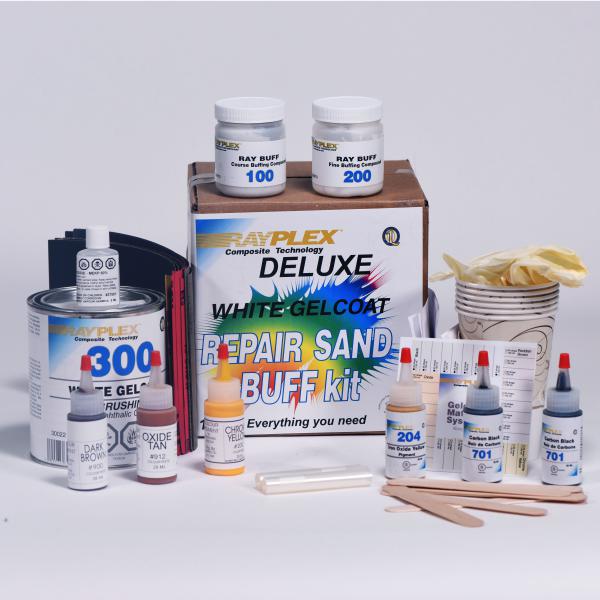 Minor Gel coat repairs are easy to do allowing you to achieve professional results the first time.
KIT Includes:
3.78L Gelcoat
Catalyst (hardener)
6 tubes of pigment
2 Pair Latex Gloves
2 Mixing sticks
2 Paper mixing cups
1 sheet Mylar
Color Chart
A complete instruction guide to take you through the process
4 grades of sandpaper
A course & fine buffing compound.
Features are:
Can be used for repairs above and below the waterline
4 Pigments included in kit but various colors available
Can be used to repair fibreglass such as hot tubs, shower stalls, boats and recreational vehicles.
Matching Tips
Over the years we have found that most off-white colors start with a base of OXIDE and then have a slight amount of yellow or brown or black added. That covers about 740 different shades of off white.
As gel coat gets older it fades. Its not unusual to find a 10 year old boat that has faded to 5 different colors. (RE: deck, transom, interior, port side, and starboard side.) Different amount of sunlight caused the fading to happen.
Custom Kits (private label)
We can also custom-make kits for automotive wholesalers or Marine distributors with your corporate Brand name.