Carbon Fibre Tape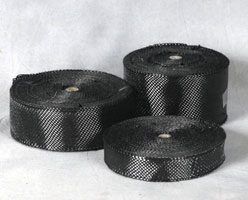 LIMITED STOCK AVAILABLE...please email info@fibreglass.com to see what we currently have in stock.
Carbon fiber tape is simply strips of woven carbon fabric. Ideal for localized reinforcement of carbon fiber fabrications, sleeve winding, lap joining, and repairs of cracks on graphite surfaces without the need to cut down large pieces of fabric.
Features include:
Plain weave for uniform strength in both directions.
Wets out quickly and easily.
Fatigue resistance for durable strength.
High chemical resistance.
High temperature tolerance and low thermal expansion.
Carbon fabric tapes are referred to as tapes only for their width and appearance—they are not adhesive backed. Their finished edges offer easier handling and a clean, finished appearance. They are ideal for use in auto racing, aerospace, civil engineering, light industrial applications, military, and Motorsports, along with other competition sports.
Tips: To maximize the fiber properties, use with epoxy or vinyl ester resins. Great for strengthening parts. Polyester resin is also suitable, and is primarily used in cosmetic applications where higher strength-to-weight ratios are not a factor.
Carbon Fibre Tape is available in various sizes; see chart below:
Specifications: Width: 1"-6"; Fiber: Hexcel AS4; Wieght: 5.7oz/sq yrd, 199GSM; Thickness: 0.009in, 0.23mm
3 Yards

Width
Item#
Price
ORDER

2"

14135

3"

14145

4"

14155
10 Yards -

OUT OF STOCK

Width
Item#
Price
ORDER

1"

14116

2"

3"

4"

6"
50 Yards -

OUT OF STOCK

Width
Item#
Price
ORDER

$184.69

2"

$248.44

3"

$360.46

4"

$384.37

6"

$713.44