Endura Composite Paint Colors
Endura has created a paint system designed to work in the harshest environments, from off shore oil rigs, gravel trucks, boats, cars, airplanes and trailers, providing a high performance, easy to spray, long lasting coating that is highly durable.
Can be used on fiberglass truck hoods, RV's, motor homes, trailers, boats, sailboats or anything with a gelcoat surface.
Choose your color palet and click to see our 3 step process.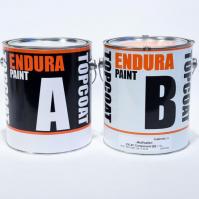 Endura EX-2C Clear 100 KIT
A clear coating designed to give extra protection as a spray over to solid, metallic, and pearl colors.
980-100