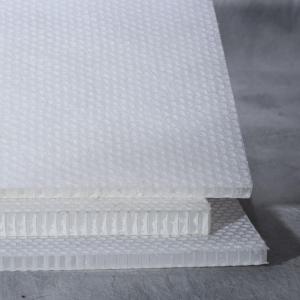 1 1/2'' Honeycomb Polypropylene 4' X 8' SHEET

SKU

48045
Features include:
High strength-to-weight ratio
Corrosion, fungi, rot, chemical and moisture resistant
Sound and vibration dampening
Energy absorbing
Thermoformable
Temperature use to 180°F
Recyclable
Mainly used as core in composite panels, in energy absorption and filtration media.
Perhaps the lightest weight core option, honeycomb materials are used in aerospace, military, high-performance marine, motorsports and other high performance applications. Honeycomb cores are manufactured from a wide variety of materials including, fire-resistant Nomex®, aluminum, and thermoplastics, most commonly, polypropylene. These cores are available in a range of cell sizes and cell wall thickness to provide a wide scope of mechanical and thermal properties that perform in demanding and critical applications.
Polypropylene (PP) Honeycomb with a lightweight, nonwoven surfacing veil and underlying PP film. A cost effective core solution for composite sandwich applications. Easily Bonded to a variety of thermoset and thermoplastic adhesive systems. Offers light weight, high strength, moisture and chemical resistance, acoustical absorption and dampening, formable and recyclable characteristics.
Please note: 4 x 8 sheets will have an additional charge for packaging for shipping.