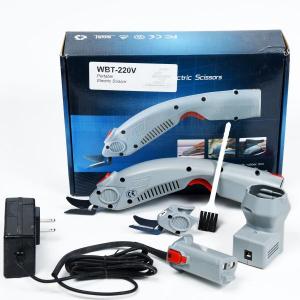 WBT- 115 Portable Electric Scissor 115V

WBT-115 CUTTER replaces the EC Cutter #65160
SKU

67100
Features are:
Convenient and portable
Comes with a rechargeable battery, no cord to worry about
Battery life is up to 8hrs, however second battery can be purchased to always have fresh re-charged battery on hand.
Easy to change cutter head, comes with 2 carbide insert blade assemblies; one with increased angle for easy cutting of tough materials and the other for long life.
Serrated blade is also available.
Also Included is an A/C adapter that replaces the battery for "plug-in" operation.

Suitable for clothing, leather, luggage and bags, textiles, rubber products, paper industry, carpets, handicrafts, umbrellas, etc.

Cutting Range (for reference only): Sponge, felt, knitted cotton: within 15mm; Clothing, textile fabric, knitwear, curtain: within 8mm; Glass fiber, imitation leather, rubber, carpet, soft plastic, paper products: within 5mm; Leather, carbon fiber, aramid fiber: within 3mm
This is a battery powered all-purpose Portable Electric Scissors, WBT-115V which is widely used for cutting cloth, leather, paper, rubber & plastics.
Our customers are saying: "More powerful than the EC CUTTER" and "Battery lasts longer, more industrial"