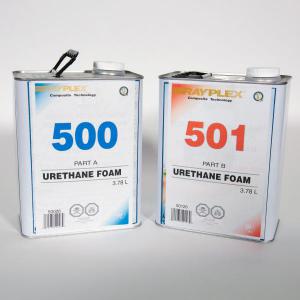 Expanding Urethane Foam 3.78L KIT
(2)
3.78L KIT includes part A & B
SKU

50026
Features include:
Excellent for Flotation and Insulation.
Two part expanding urethane foam transforms into a rigid closed cell foam which is resistant to water absorption.
Can be poured in multiple layers with excellent bonding between layers.
Good compressive strength.
Mold and mildew resistance.
Once fully cured this foam can be laminated over with any type of polyester, epoxy or vinyl ester resin without melting.
Expanding Urethane Foam is a two-component, urethane foam system available in 4 separate density formulations by weight per cubic foot.
This KIT contains both part A & B
Foam - Part A used for floatation and lightweight (R5 to R7) insulation.
1 lb. of Part A to 1 lb. of Part B mixed foam will fill a one cubic foot space to 2 lb. per cubic foot density.
The lightweight foam is commonly used for filling voids, filling under decks and practically any other flotation or insulation application. Higher densities are used for architectural castings, support applications and has virtually an unlimited number of potential uses.
Featured positive reviews:
Great products
04/15/2021
i have used this product a few times now, works great!
its pricey but definitely worth the money all day.
fast & very reasonable shipping.
thanks again