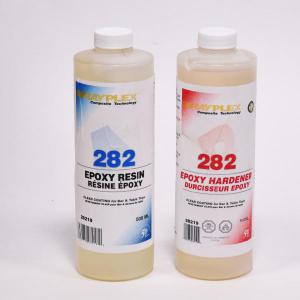 CLEAR Coating Epoxy Resin 1L KIT
(1)
**OUT OF STOCK**
Click Picture for more Info

Comes with 500ml Resin and 500ml Hardener
Wood, Bar & Counter Top coating resin, UV stable, Max pour 1/4 in or .250
Easy MIX 1 Part A : 1 Part B (by volume)
SKU

28217
Features Include:
Extremely durable finish, scratch resistant, heat resistant, requires no maintenance.
Will cure to a clear, glass-like finish.
High content of organic products.
Easy to use and low odor.
100% solid rate.
Can be poured up to 1/4 "thick per coat or .250
How much resin do I need?
#282 CLEAR Epoxy Resin can be applied with a foam brush/roller or squeegee. Material is typically applied in two stages:
In the first stage a thin layer of material is applied to seal the substrate and prevent any air bubbles from forming in future coats.
The second stage requires thicker flood coats applied at 1/8". How many flood coats are needed depends on your particular application but one to three is typical.
Recoats can be applied as soon as current layer has "tacked up". If your previous layer has fully cured then very light sanding with a fine grit (220) sandpaper followed by a solvent wipe (isopropyl alcohol or acetone) is necessary before application of subsequent layer. A heat gun or torch may be used after the pour is completed and the material is still liquid to burst/pop any remaining air bubbles. If a torch is used the flame should never come in direct contact with the epoxy, smooth strokes 6-12 inches above the material is all that is required.
Work Time: 20 min
Gel Time: 30 min (150 grams)
Drying Time: varies on thickness but roughly 6-8hrs(surface) to 10-14hrs(Thru) to complete hardness in 5 days.
Application TIPS: Do not vary or deviate from mix ratios, failure to do so can result in soft spots or partial curing. For best results the material should be used at temperatures from 70°-80°F. Work areas should be clean and dust/insect free.
SAFETY PRECAUTIONS:
Mix and pour in a well-ventilated area.
Avoid contact with skin and eyes. If contact does occur, wash skin with soap and water and seek medical help.
Read and understand all CAUTIONS on container labels and safety data sheets before using this material.
Avoid breathing of vapors.
Forced local exhaust is recommended to effectively minimize exposure.
NIOSH approved, organic vapor respirators and forced exhaust are recommended in confined areas, or when conditions (such as heated polymers, sanding) may cause high vapor concentrations.
DO NOT WELD ON, BURN OR TORCH ON OR NEAR ANY EPOXY MATERIAL. HAZARDOUS VAPOR IS RELEASED WHEN AN EPOXY IS BURNED.
Featured positive reviews:
Did exactly what I wanted
08/25/2020
I used this to finish the top of an antique maple cabinet that I converted to a bathroom vanity. This was my first time using epoxy as a finish and I was nervous about it. It is not an easy finish to remove if you mess up!

The pour went easy and I used a wallpaper spreader to spread out the epoxy. I used a heat gun to pop any bubbles that formed. A masking tape border prevented the epoxy from spilling over (I did the pour with the vanity already installed). After 12 hours, I removed the tape border. The epoxy was still soft enough that it was easy to cut away excess or problem areas with a utility knife. I let it cure for 3 full days before using the vanity.

The epoxy finish seemed to adhere well to the shellac finish that was already on the cabinet. It is perfectly clear, so there was no colour change to the top, allowing the nice amber colour of the shellac to come through. The finish is VERY glossy, so that it looks wet.

My only wish is that instructions came with the product.