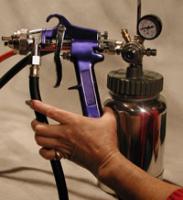 Features are:
Perfect for small to medium size gelcoat and resin spray jobs.
Standard 2.5 mm nozzle is perfect for gelcoat & resin.
Top quality with material flow control and adjustable air control.
Cuts back on over spray, get more gelcoat on the product.
Low recoil with easy handling and adjustable.